Mission
Our mission is to maintain and enhance the safety and security of neighborhoods in the Shadow Creek Ranch master planned community, through continued education of our residents, dissemination of important information, and patrolling of our neighborhoods to identify and report suspicious behavior.
Membership
Membership in the SCR Neighborhood Watch group is open to all eligible residents, business owners, and members of the community organizations who live or conduct business within the neighborhoods of Shadow Creek Ranch community and current property owners within the community.
News
---
Pearland PD, in connection with First Service Residential and SCRMA, sponsored a Partnership in Crime Prevention Town Hall Meeting on January 26th for Shadow Creek Ranch residents.
The meeting was well attended by SCR residents (estimates are over 300 attended).  The agenda is attached, and the meeting began with introductions of participants.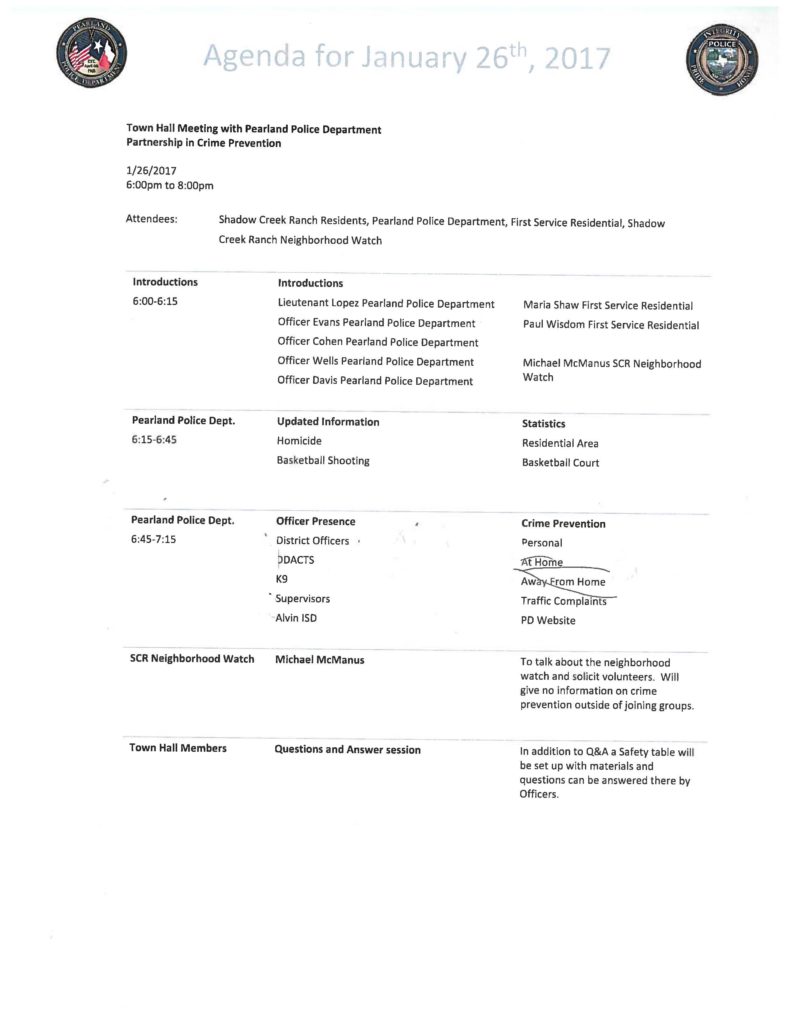 *NOTE: Due to equipment issues, there is no audio for the videos related to the first part of the meeting (the formal presentations).  We have thus omitted those videos (Parts 1 & 2) and apologize for the technical difficulties.  A brief overview of those presentations is below*
Officer Jeff Evans began the evening discussing the two most recent violent crimes, the homicide involving a homeowner and the shooting in the parking lot of the basketball courts.  Although no detailed information could be provided due to the ongoing investigations, Officer Evans and Pearland PD confirmed these were isolated, targeted incidents, and not random acts of violence.   Officer Evans then ran through the crime stats for the area as shown in the attached images.  In general, overall crime in the neighborhood has decreased year over year; however, violent crime has seen a sharp uptick, but is still relatively low for a community of our size.  The two major changes in violent crime were aggravated assault and robbery.   Questions were raised re: the calls to the basketball courts.  A discussion ensued that explained the confusion some residents had over the large number of "security checks" at the courts.  These are not reports by residents to the non-emergency line, but rather stops by PPD during ordinary patrols to further examine the area and assess whether anything illicit is occurring.  The actual number of reports by residents to PPD about the courts is small.  Another concern raised during this discussion pertained to the lack of reporting to AISD of the incident.  Lt. Lopez admitted that fell on PD's shoulders, and that the department has since had discussions with AISD and will continue to develop a comprehensive list of public and private schools and daycares that should be notified when incidents occur nearby.  Officers Evans and Cohen, both SCR residents, concluded the Incident Discussion by stating they have no concerns about their families sleeping at night in Shadow Creek Ranch – the incidents were not random, and SCR is generally safe.  SCRMA President and Maria Shaw with FSR both attempted to answer specific questions regarding the courts; however, resident jeers and heckling prevented any useful discussion.  However, SCRMA President noted that no decision would be made until the SCRMA board meeting in February.  One option is to re-secure the courts and add signage stating Private Property – this gives PPD more power to check ID's and take action against non-residents.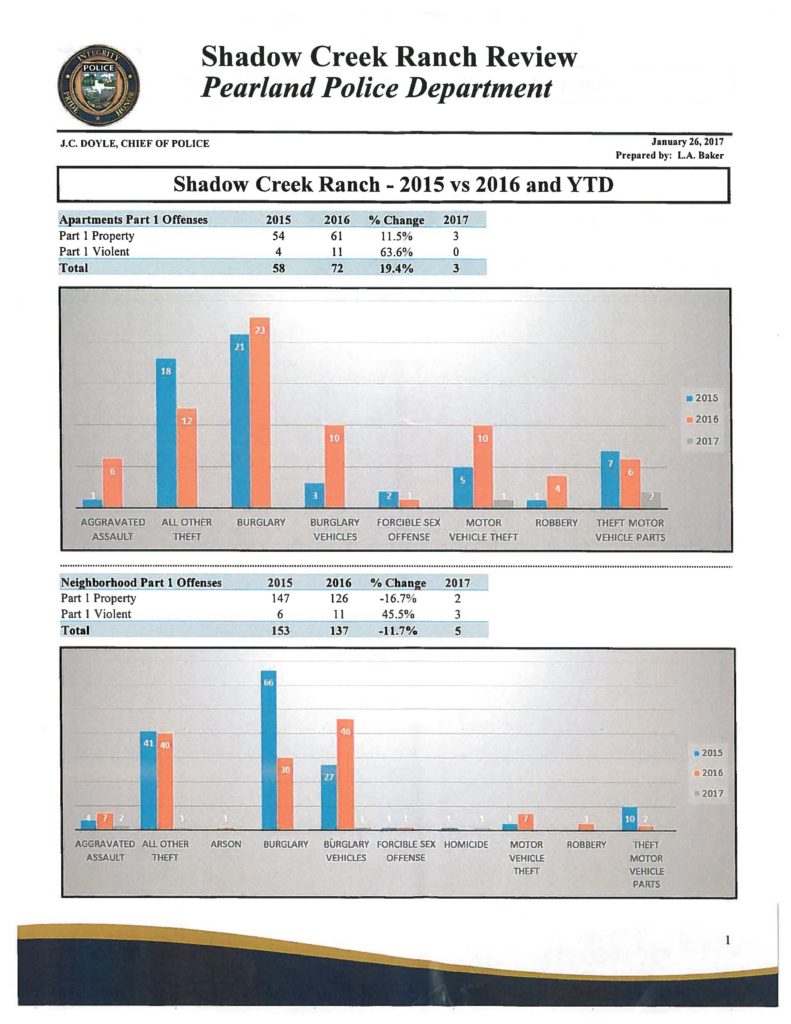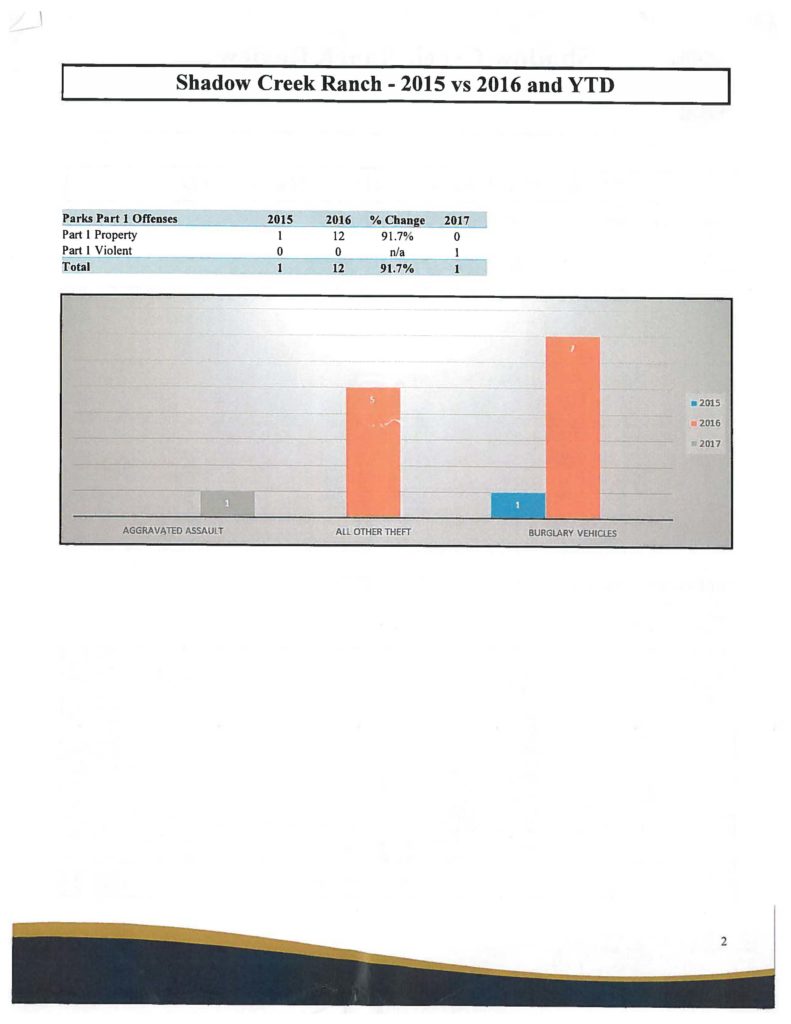 Pearland PD continued with a discussion of their policing methods.  Just a couple of weeks ago, the patrol districts were redrawn.  Section C now covers west of 288 to 521 and north to BW8.  The number of patrol officers has increased from 4 to 6 for our section.  They also discussed the use of DDACTS, which is their Data Driven Approach to Crime and Traffic Safety.  Officer Wells gave a lengthy presentation on crime prevention as it pertains to your person and home.  We won't go into detail on those here as most have already been covered in previous neighborhood watch meetings and presentations.  The information is either already posted on this site, or soon will be.
*VIDEO begins here – see links at end*
Michael McManus gave a brief overview of the Neighborhood Watch group and its activities.  Please consider volunteering for block captains, patrols or to serve as an officer.  The group is calling for assistance in stepping up patrols, encouraging block captains to organize block parties to get to know your neighbors and will continue to provide safety and security training to residents, such as through the SCR Self Defense classes and through firearm education and range outings.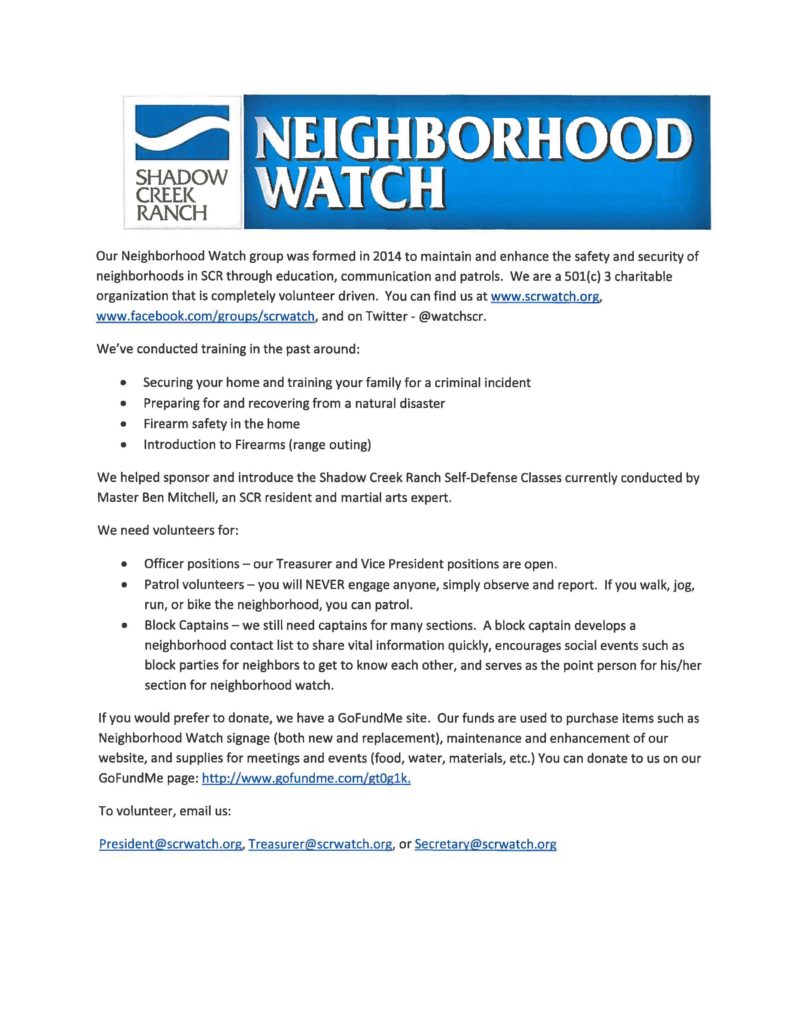 Q&A session began.  Please view linked videos for the Q&A.
---